TXT-agua_residuos-life_anadry
LIFE-ANADRY
Dry anaerobic digestion as an alternative solution for the management and treatment of sewage sludge
Financed by: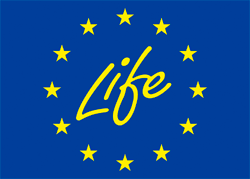 File number: LIFE14 ENV / ES / 000524
Program: LIFE
Partners
DAM (Coordinador)

ESAMUR

SEMIDE

INDEREN
Summary
The idea of ​​the Life ANADRY project was born with a view to improving the management of the sludge flow generated in small and medium-sized urban wastewater treatment plants (WWTPs), which are currently destined for landfill or are applied to agricultural land.During its course, the viability of dry anaerobic digestion technology (or in a high concentration of solids) as a solution for the treatment of WWTP sludge of these characteristics will be verified through the operation of a pre-industrial reactor (20 m3) that will be will be installed in a treatment plant in the Autonomous Community of Murcia.The Life ANADRY project aims to study the feasibility of a technological solution that can be transferable to other areas of Europe and even to a different field than urban WWTPs, and to this end it will involve the different technical actors, local entities and public bodies.

Ceit's role in the project
Ceit has an important degree of participation in the project, especially, our center has direct responsibility for technical tasks. It should be noted that one of our researchers is a member of its management body. Ceit-IK4 activities within Life ANADRY are indicated here:
Actions to characterize the sludge that the pre-industrial ANADRY prototype will treat.

Collaboration in the design of the pre-industrial ANADRY prototype.

Responsible for starting the pre-industrial ANADRY prototype once installed in the WWTP.

Collaboration in the implementation of ANADRY technology in the mesophilic and thermophilic range of temperature, and direction of the experimental plan.

Responsible for the technical-economic feasibility studies of the ANADRY technology for the WWTP under study.

Tasks for disseminating the progress and results of the project and networking with other European projects.