TXT-fabticacion_avanzada_pulvimetalurgia_laser-creacion-validacion-metodos-diseño-fabricacion-aditiva-metalica
Creation and validation of design methods for metal additive manufacturing
Financed by:

File number: 2015-CIEN-000066-01
Program: Gipuzkoan Network of Science, Technology and Innovation Program
Partners
Summary
This project has investigated design methods that explore the new capabilities that additive manufacturing offers. There is no point in investing in an additive manufacturing machine and continuing to use the same design techniques as for additional manufacturing. The main objectives of the project are:
Define and implement the most appropriate workflow considering from design to manufacturing and post-process. For this, the different tools available in the market will be evaluated and compared.

Apply the above workflow to a topological optimization case of a real part.
The following figure shows the full flow of additive manufacturing.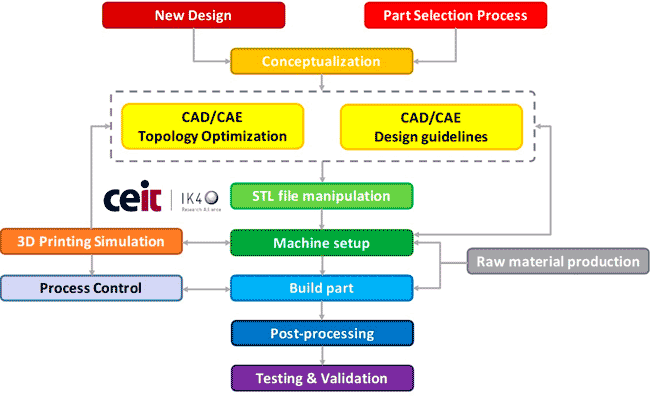 The following figure shows the original part on the right, in yellow two versions of the topologically optimized part and printed on plastic. The three pieces on the left are the final design made of three different materials.