DREAM
D-band Radio Solution Enabling up to 100 Gbps reconfigurable Approach for Meshed beyond 5G networks
Financed by: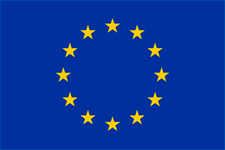 Número de expediente: 761390
Call: H2020-Galileo-2015-1
Programa: European Union's Horizon 2020 research and innovation programme
Partners
Ceit-IK4

VTT Technical Research Centre of Finland (VTT), Finland

STmicroelectronics, Italy

III-V Lab, France

Erzia Technologies, Spain

Nokia-Alcatel-Lucent, Italy

Università di Pavia, Italy
Summary
The main objective of the H2020 DREAM project is the research and development of advanced, cutting-edge technologies for wireless high data rate communication links able to cope with the requirements of future cellular networks beyond 5G.
The increase in wireless communication speed has been almost ten-fold every four years until now. Assuming the development is extrapolated into the future, 100 Gbps wirelessly will appear in around 2020. To date, there is still a lack of technology compatible with the next high demanding telecommunications standards beyond the 5G.
New network architectures that can be deployed efficiently will be required to address this very demanding high density urban environment. Small cells are a key enabler of future networks and they are currently a focus of research leading to new challenges for the backhaul network because of their dense deployment.
The H2020 DREAM project, through the exploitation of the radio spectrum in D-band (130-174.4 GHz) with beam steering functionality, will enable wireless links with data rate exceeding current V-band and E-band wireless backhaul solutions by at least a factor of 10 and thus, it will bring wireless systems to the speed of optical systems. The DREAM project vision and objectives rely on a power efficient and silicon based BiCMOS transceiver analog front end, operating in D-band and enabling cost efficient deployment of meshed networks with seamless fiber performance. A beam steering integrated antenna array using an intelligent low-cost packaging technology prototype will be developed for the implementation of the beyond 5G network proof of concept in a realistic environment.
Ceit's role in the project
In the system definition phase, Ceit-IK4 will collaborate in the system specification and in the architecture definition, by performing link budget calculations, giving the specifications for the different building blocks and defining the interfaces between them.
In the design phase, Ceit-IK4 will design the integrated phase shifters, which play a key role in achieving beam steering functionality. Ceit-IK4 will also be in charge of the integration of the different building blocks within the transmitter and receiver radio front-end chips and of the design of the control mechanisms for the chips.
In addition, Ceit-IK4 will provide technical support during the system integration and validation phase.